01 février 2007
Shanghai Subway (called "di(4)-tie(3)" in Chinese)

Subway is the most efficient way of traveling around Shanghai. It's fast, it's cheap and it's easy.

At present (in 2006), there are 4-5 main subway lines. Other lines are under construction and will be in use very soon.


Global view of Shanghai Subway line.

Main line is Red (line 1) and Green color (line 2)
Let's get started: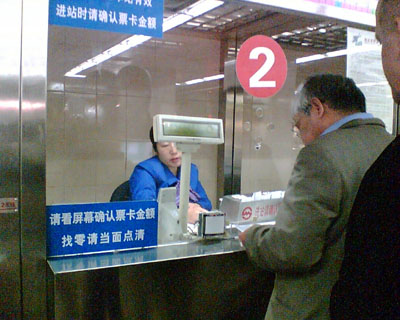 Ticket office
Be ready to fight for your queue, some people might cut in the line.
In general, the ticket officers don't mind at all who comes first or line.
For those who are frequent users of Shanghai Subway, it's preferable to use the magnetic prepaid transportation card. It's called JIAOTONG Card (jiao1tong1ka3 / 交通卡)

This 'Jiaotong' card' can be used in Subway, Taxi, Bus and boat. (It seems that we can use it in McDonald's)
This card requires a 30RMB deposit,

for example : if you pay 50Rmb, your usable value is 20Rmb.
if you pay 100Rmb, your credit is 70Rmb.

Available at any Subway ticket counter in every subway station.
Why opt for Jiaotong Card ?

No need to queue up to buy ticket each time.
No validity. Get out of subway area faster, you only need to swipe the card on the optic reader. (No need to take out the card each time, the optic reader can scan through clothes, handbags, wallet)

This is normal appearance of Jiaotong card. If you are lucky, you can find some nice new collection. It's credit card size.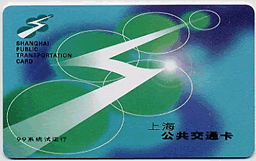 This is the entrance and exit, the optic card reading machine is on the top. (Green color)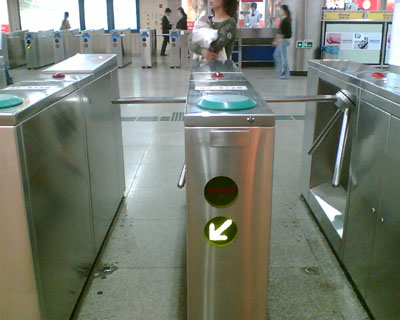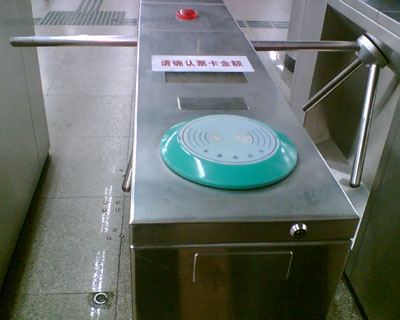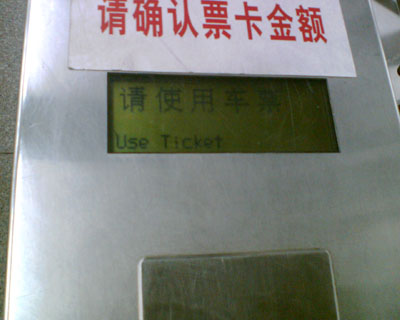 Each time you enter, the value of the card is shown.

When leaving the station, the remaining value is shown.
How to read the sign :
From Left to Right : Towards direction - Next station - Actual Station.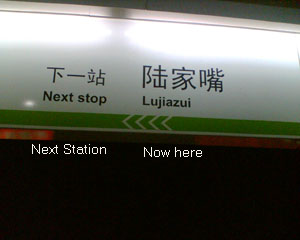 In general, the train is always crowded, people waiting outside the train normally don't leave space for inside-the-train people come out. Normally, there is always a 'pushing'..don't be surprised.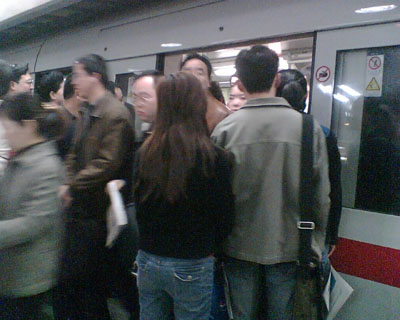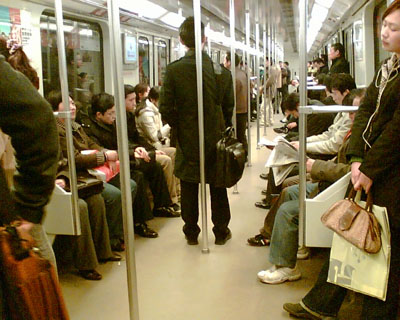 This is the 'usual rush hour' image.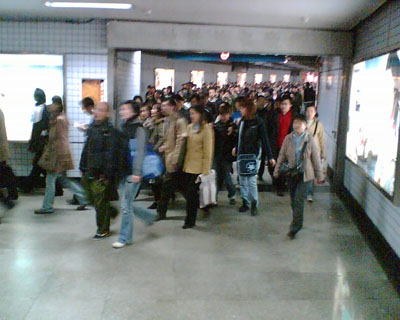 Be sure to get information about your exit. In general, there are 3-4 exits for each station. Some major stations like People Square has 12 exits or Xujiahui has 14 exits. If you misses the right exit, be ready for a long walk....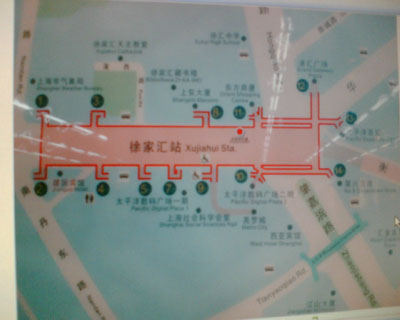 Shanghai Subway Map is available at URBANRAIL.NET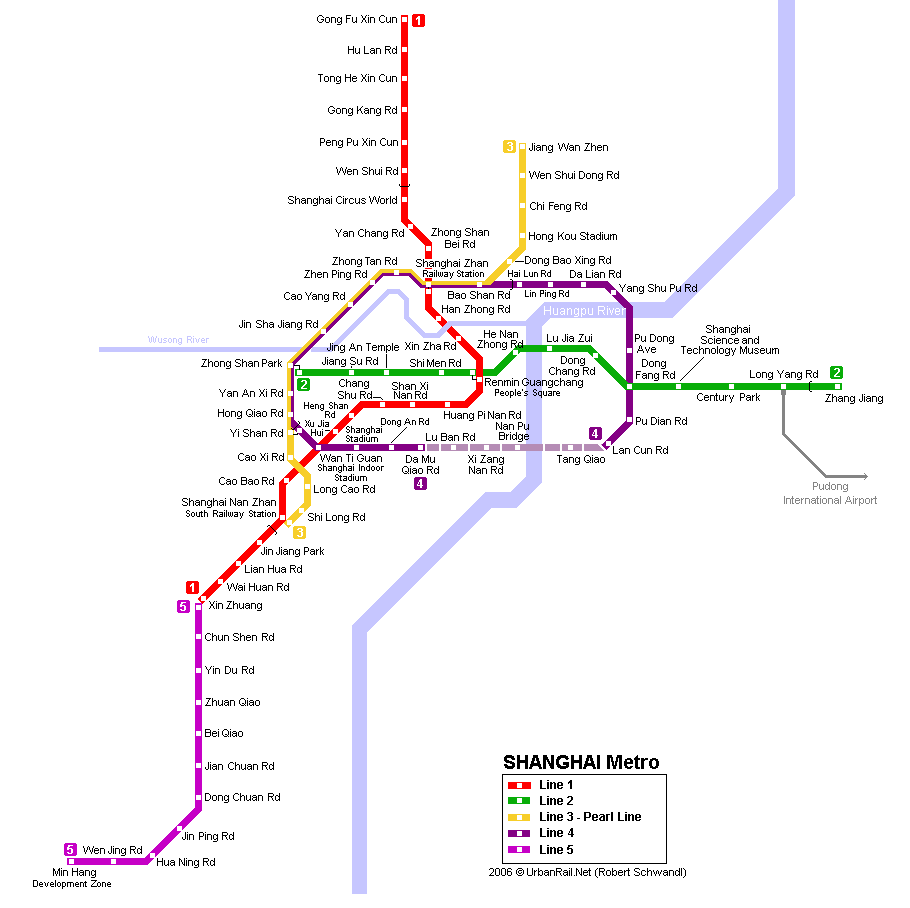 Shanghai Subway Map(Image from Urbanrail.net)

NB :
Line 2 (Green color) has changed some station names from
-Henan Zhong lu (or Middle Henan) changed to Nanjing Dong lu
-Shi Men Yi lu changed to Nanjing Xi lu
-Dongfang lu changed to Shiji Avenue/Shiji da dao

Make sure to always keep up with the updated information as Shanghai has a lot of changes so fast and
often.
BON VOYAGE!
19 avril 2006
Last time I talked about Taxi, but no inside pictures. Now I got some.
Here is from passenger back seat's view. Each taxi is equiped with this plastic dock.
To separate the driver and passengers...
To show the address , to pay or to give something to driver,
we just have to go through a small space above the dock..
Here comes the meter and the taxi driver's ID number. Each driver has star(s). More stars means something special, for example a taxi who can speak other language than Chinese get more stars, or who know ..That's what I heard. It's like the more stars he has, the better he is than the others..
Well, I can't justify...but I just think most of them drive with the same manner...that means ...
...you'd better fasten your seatbelt and hold on tight!!
Some tips (by the way, no need to tip taxi driver in China, nobody does so) :
Useful Taxi language


<-- Zuo Guai (pronounced "juow gway") = Turn Left
--> You Guai (pronounced "yoh gway") = Turn Right
| Yi zhi zou (Pronounced "ee djeuh joh") = Go straight
U Diao Tou (pronounced "teaow toh") = Make a U-turn
(!) Ting ! = Stop
Qian Mian (pronounced "shian mian") = In front / ahead
Zhe li (pronounced "djer lee") = Here
Na li (pronounced "naah lee") = There

(tricks with Chinese tones, Na li can means "where" or "there" depends on how one pronounces.. but I think taxi driver will certainly understand what you mean..)

One more phrase that can save your life if he goes too fast :
"Man Yi dian" or just "Man man!!" (Means "slow down!")

Last but not least, always ask for "fa piao" (the receipt)..
It's not that I smoke that I talked about cigarettes...Just because I found the variety of cigarettes in Shanghai is interesting. Moreover a lot of people in Shanghai smoke! Some can smoke at the same as taking meals. Some can smoke in the forbidden places, just sitting right under the "no smoking" sign and smoke. They don't care wheter people nearby can tolerate or not, just a 'pleasure of smoking'...
Cigarettes can be found everywhere. In general, a pack of cigarettes cost from 4 RMB to 16 RMB. Depends on brandname and places..Marlboro cigarettes costs 10 RMB per pack. If bought in carton, it's just a few RMB cheaper (for that carton not per pack)...Chinese cigarettes are much cheaper, some are around 5 RMB.
This is China, so no doute, there are also 'counterfeit cigarettes'. For example, Marlbolo...
A friend of mine said he prefers to buy a soft pack of Marlboro than the hard pack because it's easier for the Chinese to keep the empty hard pack of Marlboro and refill it with fake cigarettes (which, of course, tastes awful..)
Sometimes I have to ask myself for whatever I buy "is this fake??"
06 avril 2006
Let's change a little bit...switch to mouth watering topic...Peking Duck...
Today, I had a chance to try the famous Peking Duck.
My friend and I went to Ya Wang, (Duck King). Wow, it's delicious,
We were about 18 people, sharing 4 Peking ducks and some other dishes.
All together we paid about 1000 RMB, we went AA zhi (Chinese's way of saying American Share),
per person, I paid about 60 RMB..
The crispy duck skin, on the white thin crepe, with some slice leak and cucumber,
the sweet brown sauce. That's nice!
Here's my photo sharing... Hmm yummy....

Art of slicing Peking Duck.
Thin crispy Duck skin + sweet brown sauce + leak + duck meat

plus
plus
White crepe or sesame bread

=
Just wrap it, then we get the PK Duck bite

Another famous Chinese dish is "Ma Po Dou Fu"...The spicy tofu with some mince meat...Hmmm...Yummy


Ma Po Dou Fu
After we asked for the bill, I just noticed that all the chefs and teams are in the dining hall,
Guess what they are doing? Playing cards..... This seems to be one of Chinese popular hobbies...
28 mars 2006
Temporary Residence Permit
the so-called "Yellow Paper".



This is the one used by hotel (Click to see full image)
This document's nickname is "huáng dān"


Every foreign vistor, after entering China, has to request for a Temporary Residence permit (the yellow paper) at the nearest Police station. If you are tourist, stay in a hotel, the hotel reception will arrange that for you.

If you are just visiting China for a few days or more, I don't think it's important to have this paper, but however, better safe than sorry. Because we never know what kind of trouble we will have if once the office just ask for this paper. It might cost you a lot not to do so.


How much it costs?
= It costs nothing.


Where to obtain the yellow paper

Reception of the hotel where you check-in the first day.
Management office (务业 : wù yè) of your compound, apartment, residence,
Nearest police station
What to bring along?

Passport (they will make a photocopy of 1)your passport info page, 2)visa page, 3)date of entry stamp
Lease contract (only if you rent a house or apartment in Shanghai)
Namecard of company you work for or deal with might be useful


Just Bring along your passport ( of course, with the valid visa inside) ,the police officer will check the following :

Your name, nationality, date of birth
passport number,
Type of visa, date of expiry
Visa number,
Date of entry (from the Airport's stamp),

Your company's name and address, esp. if you are on F-visa or Z-visa

Lease contract, apartment's owner's name.
Everything will be mentioned on this so-called "Yellow paper"


It comes necessary when you have to :
apply for residence permit,
extend the visa,
renew the visa,
dealing with the Chinese authorities
etc..
Once you have got the real 'residence permit', you don't need to ask for this yellow paper.
But if you are on, for example, F-VISA with multiple entry, double or single entry, you have to request for this yellow paper EVERY TIME you ENTER CHINA.
Well sounds complicated but....the simple reason is... THIS IS CHINA....
PS. it seems to have 2 versions, the one used by Hotel, the other for those who rent an apartment or house in Shanghai.
This is the one used by Management office, for those who rent, live in Shanghai (Click to see full image)
23 mars 2006
SKYPE out vs YAHOO Phone out.
Price comparison : Skype vs Yahoo
Recently I was studying the price difference between Skype and Yahoo for their PC to Phone (VOIP - Voice over internet protocal), it think my sharing might be useful to some other people.

Personally I use Skype, it works very well, sometimes the voice quality is not very good, but most of the time it's perfect. I don't know Yahoo Phone out service yet, but prices are very attractive. I tried to convert the price of Skype into US $ so that we can compare with Yahoo (which is quoted in US$) easily.
Price of Skype's here, is the 'including the tax'.

Price as of March 2006

---
Skype out (EURO)
Skype Out
(US$)
Yahoo Phoneout
(US$)
France
€ 0.020
$ 0.024
$ 0.015
France mobile
€ 0.189
$ 0.233
$ 0.150
France Paris
€ 0.020
$ 0.024
$ 0.015
France Tollfree
€ 0.000
$ 0
Thailand
€ 0.106
$ 0.130
$ 0.049
Thailand Bangkok
€ 0.057
$ 0.071
$ 0.039
Thailand Mobile
€ 0.107
$ 0.132
$ 0.049
China (overall)
€ 0.020
$ 0.024
$ 0.015
China Mobile
€ 0.020
$ 0.024
$ 0.015
Japan
€ 0.022
$ 0.027
$ 0.019
Japan Mobile
€ 0.144
$ 0.177
$ 0.110
Hongkong
€ 0.020
$ 0.024
$ 0.015
Hongkong Mobile
€ 0.020
$ 0.024
$ 0.015
Mayotte
n/a
$ 0.290
Mayotte Mobile
n/a
$ 0.290
US
€ 0.017
$ 0.021
$ 0.010
US Toll Free
$ 0

US Directory Assistant
$ 0.800
Korea (before 21mar06)
€ 0.200
Korea
€ 0.017
$ 0.019
Korea Mobile
€ 0.017
$ 0.049
Singapore (before 21mar06)
€ 0.025
Singapore
€ 0.025
$ 0.015
Singapore Mobile
€ 0.017
$ 0.015


Recharge :

SKYPE : 10 Euros (excluding Tax) = 11.50 euros (including Tax)
or 25 Euros (excluding Tax) = 28.75 euros (including Tax)
Yahoo : 10 US$ or 25 US$ (Tax is not mentioned)
22 mars 2006
PRIVATE TAXI


Besides the normal taxi meters in Shanghai,, there are some other private taxis (also with Meter), that I always use for the long distance, and especially when I need to go to the airport or pick up somebody at the airport. It's even ideal for business visitors who need private car with driver to go further and out of Shanghai.
There are plenty of private taxis...it's mostly known by words of mouth. I know one private taxi, kind of family-managed taxi company, they have about 5 cars and quite well organised. A reservation by phone is necessary. Unfortunately they only speak in Chinese...few English for now.
All they ask is :
your name, (nin gui xing?)

your phone number, (ni de dianhua haoma?)

when and what time you need the taxi, (Sheme shi-hou? , Ji-dian?)

where to pick you up, (Dao na-li?)

where is your destination (Song dao na li?)
I always call them to pick up somebody at the airport with 'name sign'. The driver always help for carrying and taking care of luggage (which is not the case for normal taxis where they just stand and watch you 'do it by yourself'. The service is excellent and the price is exactly the same as normal taxi. The meter is well hidden in the frontal storing place. Looking from outside, we couldn't say it's a taxi. They always provide 'fa piao' (the taxi receipt).
It's Wolksvagen GOLF, sometimes BUICK a lot of space, more comfortable, driver is very polite, they can speak few English but I'm always impressed by there service.
12 mars 2006
Shanghai Taxi

In Shanghai, taxi is one of the most convenient ways for traveling.
It's quite easy to get a taxi in the street. Just wave your hand and a taxi will stop 'at any place'. Sometimes taxi drivers almost create an accident.
At the airport, both Pudong Airport and Hongqiao Airport, there is a taxi queue and a staff who manage the queue. (It doesn't mean he can guarantee if somebody cut into your line)
It's quite safe to take a taxi in Shanghai, though you should be somehow careful if taxi driver is not fooling around. Some typical fooling around is : Driving around to make the meter go up.. But it's always possible to complain and refuse to pay(when it's exagerated), whether to the taxi driver or to the company.
Meter and Raxi receipts
Each taxi is equiped with meter and printing function. The driver is always behind the transparent dock.
You can always get a taxi receipt called "Fa Piao" in Chinese. There is always useful information on the receipt.
So be sure to learn this word by heart, you will certainly need it : "FA PIAO" ( pronounced "faah peeoow" )
In Chinese, you could say "Wo yao fa piao" (wǒ yào fā piào) = I want a taxi receipt.
Here is how the 'fāpiào' (发票) looks like :
The so-called "Fa Piao" (发票)


Be sure to keep the taxi receipt each time you take a taxi.
1.It's the only way to track the taxi if you forget something in the taxi,
2.Allow you to complain to taxi company and even get reimbursed if taxi fool you around.
The most difficult time to get a taxi :
1. Raining time
2. Rush hours (7-9AM, 5-6PM)
3. When it's extremely cold in winter.
It could happens ...
It could happen... that you have to 'forget about being polite' and fight for the taxi. I see it quite often, you wait for a taxi, even it's you who call that taxi, somebody else will get it without caring if you were there.
It could happen...that you haven't come out from the taxi, haven't even done with paying the driver and somebody already get on the taxi...
It could happen....that the taxi refuse to take you before he doesn't know the way.
It could happen....that taxi drivers don't even care if you come with baby or you might need taxi more than other people. He just take any passenger who is fast enough.
So my advice, be quick & be tough sometimes..especially in Shanghai..
About the fare :
The initial fare starts from 10 RMB, and goes up according to the distance.
For the night time 23:00-05:00 , the initial fare starts from 13 RMB
The initial fare includes 3 Km distance

If you think the taxi driver cheat you (driving around), keep the taxi receipt, you can get a Chinese friend help you to complain and ask for eventually the refund.

Example of taxi fare :
From Airport to downtown : 120 RMB - 150 RMB



Different colors, different companies
Shangha's taxis come in different colours, each company has its own color.
Blue turquois, Dark blue, Blue, Red, Bordeaux color, Yellow, White, Green, etc..
The most reputable is the blue turquoise color by Da Zhong company. So far, the best and trustable service.
The yellow coloured taxi (Qian Sheng) is also very good.

This is DaZhong taxi (大众) in Blue turquoise
A friend of mine told me that the taxis with bordeaux color (red-darkbrown) color are independent taxis.
More about Shanghai Taxi
Here is some more references about Shanghai taxi, written by Wang Jian Shuo, quite well explained
http://wangjianshuo.com/archives/taxi.htm
.
More about "fāpiào (Taxi receipt)
http://wangjianshuo.com/archives/20030801_shanghai_taxi_tickets.htm
More about taxi's colors
http://wangjianshuo.com/archives/20040816_shanghai_taxi_colors.htm
22 février 2006
Arriving Shanghai Airport

There are 2 airports in Shanghai :

Hongqiao Airport
Pudong International Airport
Hongqiao (also the Expat's neighbourhood) situated on the west side of Shanghai in Puxi. Hongqiao Airport is mostly for the local destinations in China, Hong Kong, etc. But International flights all go to Pudong.
Pudong Airport is on the east side of Shanghai in Pudong, about 45km from downtown. Could be reached by car, taxi, bus, and Maglev(the fastest train)+Subway. The main and international airport of Shanghai, a brand-new and well-maintained.
Shanghai is divided by the Huangpu river into 2 parts, Puxi (west of ther river) and Pudong (east of the river).
The airport code for Pudong Airport is "PVG", Hongqiao Airport is "SHA"

Let's talk about arriving China.
Just before arriving Shanghai, the flight attendants on board will provide you some documents to fill in.
Upto now, there are 3 :
Arrival card
Health declaration form

Custom declaration form
The colour of departure and arrival's documents are not the same (Yellow for arrival card, blue for departure card). I'll talk more about that later.
With your passport, those 3 documents above (arrival card, health declaration form, custom declaration),
all you have to do is to follow the crowd to a long walkway. Don't be surprised when you think you will never arrive, it's quite long way.
If you need to withdraw some cash from ATM machine, there is one in the middle of this hallway from HSBC Bank which you can use your international Visa or Master card. (It's not always possible to withdraw money in any ATM around Shanghai, you have to go to the right one). Maximum withdrawal with HSBC = 3000 RMB per time, how many times of withdrawal depends on the limit of your card.
Arriving the immigration area, you will have to walk pass the thermal detector camera (which detects if you are not carrying birdflu with high body temperature...but no need to worry, they never catch anyone for now), through a counter where you have to submit your health declaration form (be sure to fill in and sign to save more time> If you lose 1 minute to fill out the form, there will be 20 people ahead of you at the immigration counter).
Submit this health declaration form and walk through, nobody will as you anything,
Proceed to immigration area and queue up for passport & visa control. Be sure you have your visa before arriving China..it might create some problems if you don't. This is where you will give away your Entry card.
Same here, at the passport & visa control, nobody will ask you anything if you have the valid visa. They will just check your passport, visa, and key in your personal data.
To be friendly with them, you might say "nǐhǎo!" "你好!" which means "hello" in Chinese... As I observed after travelling in and out there, the immigration officers are not very talkative.
Once it's done , you will get a stamp on your passport. Normally on the other left page of your visa page.
Let's see what this red stamp tell you.
After visa and passport control, you will proceed to lower level to get your baggage. Check out the notice board for the baggage picking up point number. The trollies are just next to the belt. I must say, Pudong airport's trollies are excellent, brand-new, easy to push and control.
In case you don't have custom declaration form, you can pick up in this hall.
Queue up to get through the custom control. If nothing to declare, just give the officer the custom declaration form.
front back
It might happen that they ask you to open your suitcase, and it might be possible that they take away your stuffs such as foods, etc..
Getting out of the airport..
The exit path is well organized, if you have someone waiting for you outside, they will never miss you, as we can see who's coming out.
There are 15 (or 18 I'm not sure) exit gates, the taxi stand is almost at the last gate.
There will be an officer asking where to go, he will write down your destination and arrange you the taxi.
If you may need to exchange your country's money into Chinese money (RMB for Renminbi), there is a currency exchange counter nearby exit 12 (correct me if I'm wrong). Just walk to the left once you are out. It's not far at all. Be sure to keep the exchange receipt as you might need it when you want to change back from Chinese RMB to your foreign currency. This receipt can be valid for 6 months.
There are different colors of taxi in Shanghai. Each taxi comes with meter and you can always ask for 'receipt' which is called "fāpiào" in Chinese (发票) , this receipt can be used to trace the taxi you take in case of problems such as complaints, cheated fare, lost things, etc. The passenger and driver are separated by a thin transparent dock. More pictures will come.
Congratulation!, now you are in Shanghai. Welcome aboard fellow..!
To read more :
Shanghai Airport's Website :
http://www.shanghaiairport.com/en/index.jsp
There is an excellent blog about Shanghai, Wangjianshuo's blog,
which you can find more interesting, interactive, practical and useful information about Shanghai. This famous blogger is a young Chinese man living in Shanghai. Take a tour, you won't regret.
To see and know more about Pudong International Airport, check out
Wangjianshuo's blog
http://www.wangjianshuo.com/personal/places/pudongairport/
It's well done blog, with pictures and details
Chinese Entry Visa

To enter China, you will need to apply for a visa. Type of visa depends on the purpose of your visit. Mainly, there are

Tourist Visa (Category L)
Business Visa (Category F)
Work Visa (Category Z) --> The most complicated one
Student Visa (Category X)
Check out the Chinese embassy or Chinese Consulate nearest to your home for more information and what you may need to obtain a visa. The cost may vary, for example, I have got mine at fee of 35euros for the normal procedure (Approximately 4 working days upto 1 week). In case one needs it urgently, it's also possible with extra fee. For example, 55 euros for an express next-day-visa.
In fact, it's not very difficult to get a tourist visa. China is quite open to toursim, so just prepare the documents, photos and pay the visa fee.
This is how the Chinese visa looks like..


The main points to check once your obtain your visa is :

Category : See above for category.
Entries : 01(entry) or 02(entries) or M (多)=Multiple
Duration of each stay ... days after entry: Could be 030 (days), 060 (60days), 090 (90days), etc. "000" means 30 days and you need to get the residence permit as soon as you arrive.
Enter before : This is end of validity
Be sure to check your name spelling as well.
If your visa is for 30 days, enter before June 15, 2006. It means, you can arrive any day before June 15,2006 and stay upto 30 days starting from your arrival date.
Unlike other countries' visas,
Chinese visa will be valid from the date you apply for visa, not the date you intend to travel.
For example, if you intend to be in China on June 1, 2006, and would like a 1 month visa
Intended arrival date, June 1, 2006
If apply on May 15, 2006
Visa is valid till June 15, 2006 (Last date to enter China)
(See "enter before")
To obtain the visa in the right timing, check out your country's national holidays and Chinese national holidays, as it might delay your obtention. Normally the Chinese long holidays last 1 whole week.The main and most important long Chinese holidays are :
Chinese New year or so-called "Spring festival" : around end of January/Beginning of Febuary
May holidays : May 1-7
October holidays : October 1-7
Also keep in mind that during these holidays, most airfairs couldbe extremely high and fully booked.
To read more about Chinese visa and formalities :
About Chinese Visa
Google Searh results for Chinese Embassy
There is another type of visa we could obtain from within China, the appearance is slightly different from this one above. I'll talk about it next time. It's for the renewal, extended stay, and residence permit, etc..